About
I gather plants and flowers from local wild places in WA and north Idaho as well as my garden, then press and dry them for later use.  Most often this is a family affair involving my four year old daughter - who knows most of the names of the wildflowers that we collect.  To create earrings and pendants, these botanicals are sealed with hand poured layers of jewelers resin within quality metal frames.
Silver pieces are created using traditional metalsmithing fabrication such as sawed by hand, formed, soldered, and polished.
contact me at wildgracejewelry@yahoo.com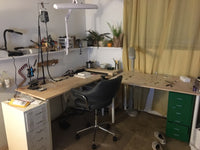 Wild Grace
Wild relates to "a (of an animal or plant) living or growing in the natural environment; not domesticated or cultivated" and
Grace comes from Melanie's middle name as well as the true definition of the word "simple elegance or refinement of movement."